In The Sign of Jonas Thomas Merton writes of his reactions to genuine portraits of the saints:
In the library I looked at the marvelous book The Faces of the Saints [The Face of the Saints by Wilhelm Schamoni]— pictures as near as possible genuine portraits—contemporary—of saints. Mosaics of the Fathers were some of the most beautiful. Saint Catherine of Siena, too, and another I have forgotten. More modern ones — some of the death masks frighten me. Saint Vincent de Paul looks very real — very much of a Gascon peasant, and tough as he can be, terrific energy in his face, fiery black eyes, and a mouth like a bear trap.

The one that most astonished me was Saint Francis de Sales — ponderous and unlike anything I would have imagined. One that most impressed me — Saint Benedict Joseph Labre.

One that scared me least — John Bosco. Also Saint Catherine of Genoa looked nice and normal for a mystic, and Louise de Marillac was a French housewife in her picture. Saint Mary Magdalen de Pazzi looked a little like my mother. Saint Aloysius Gonzaga was almost too beautiful.

Saint Teresa was funny — a plump little Spanish lady, like an innkeeper's wife in that picture, with all due respect, but I love her. Saint John of the Cross I knew; looks surprisingly un-ascetic. The saint's face that to me is most completely the face of a saint is the child's face of Saint Francis of Assisi with big astonished eyes looking out from that over-ample hood — the thirteenth-century portrait.

Some saints I had never heard of I wanted to love as soon as I saw their pictures, like St. Catherine of Ricci. All of them had faces that had suffered: some more, some less, some very intensely.
When writer David Mills shared this quote, I went looking for and found the original book, published in English in 1947. I was interested in how the portraits tallied with Merton's description. What did the saints really look like in life, rather than on holy cards? Here are the portraits Merton saw, along with his observations on each.
"Saint Vincent de Paul looks very real — very much of a Gascon peasant, and tough as he can be, terrific energy in his face, fiery black eyes, and a mouth like a bear trap."
"The one that most astonished me was Saint Francis de Sales — ponderous and unlike anything I would have imagined."
"One that most impressed me — Saint Benedict Joseph Labre."
"One that scared me least — John Bosco."
"Saint Catherine of Genoa looked nice and normal for a mystic."
"Louise de Marillac was a French housewife in her picture."
"Saint Mary Magdalen de Pazzi looked a little like my mother."
"Saint Aloysius Gonzaga was almost too beautiful."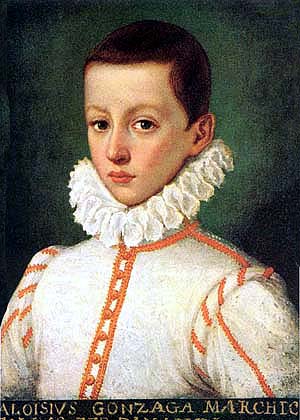 "Saint Teresa was funny — a plump little Spanish lady, like an innkeeper's wife in that picture, with all due respect, but I love her."
"Saint John of the Cross I knew; looks surprisingly un-ascetic."
"The saint's face that to me is most completely the face of a saint is the child's face of Saint Francis of Assisi with big astonished eyes looking out from that over-ample hood — the thirteenth-century portrait."
"Some saints I had never heard of I wanted to love as soon as I saw their pictures, like St. Catherine of Ricci."